Tags
colton underwood, The Bachelor, who got eliminated, who got kicked off, who got kicked off last night, who got kicked off the bachelor, who got kicked off the bachelor last night, who got sent home last night, who is left on the bachelor, who was eliminated, who was sent home, who went home
Fantasy Suite Dates were this week in Portugal. Colton jumped a Portugal fence. Colton made Chris Harrison run. Slow jog. Colton made Chris Harrison slow jog.
Fantasy Suite Dates. Date. Fantasy Suite Date. Singular. were this week in Portugal, along with surprise guest Cassie's Dad. Cassie shattered Colton's heart into a million tiny pieces. End post.
Who got kicked off: Cassie went home voluntarily and broke Colton's heart. And that is all she wrote. Fun Fact: Cassie is the 4th lady to remove herself from the show (the first being Elyse, followed by Sydney and Heather).
FINE. I'll recap the rest. But for reals. Cassie just ripped out Colton's heart and crushed it (like again and again). The worst. It was HEARTBREAKING and completely ruined my excitement for the fence jumping scene. So thanks, Cassie.
Tayshia had her one-on-one Fantasy Suite date. They went on a helicopter ride to continue all of their dates in the sky, even though they're both afraid of heights. Cool, cool. Tayshia was ready for the Fantasy Suite Dates. She revealed her ex-husband had cheated on her. She was hoping for more intimate time with Colton, but they did not do the damn thing, much to Tayshia's dismay.
Cassie went on a one-on-one date with Colton, dancing with old people in Portugal and shopping around as the locals do. Then Colton told her he didn't get her dad's permission to marry her at hometowns. And her whole world shattered. Cassie shut down and started getting confused because family means everything to her. My b – family approval means everything to her. Confused was her word of the day.
Cassie's Dad Appears
THEN to make matters worse Cassie's dad came to her hotel. ABC flew her dad to Portugal for him to tell her basically not to go through with an engagement to Colton. Dad told her that he knew with Cassie's mom she was his one and only and that he had no doubts. This confused Cassie because she had doubts about Colton and wished she had more time. So this completely messed with her mind. (I personally thought Dad would explain the blessing wasn't granted because of how short of a time she knew Colton, which he semi-did. But NOPE. Pops came in and completely derailed the love train off the tracks. Thanks, Dad!)
At dinner, Cassie tried to break the news that she was leaving and that she wasn't in the same place as far as love goes with Colton, but she wasn't very good at it. Colton POURED HIS HEART out to her. And she was still like, "I'm so confused." But she wasn't confused because she left anyway even with the option to take it slow. She just didn't want to break his heart. But I digress.
Colton told her he loved her, that she was the one he would think about on his dates, that she was the one he wanted at the end – engagement or not. Colton told her he didn't want to let her go. He told her they didn't need to have an engagement at the end, that they could take it as slow as she wanted – he just wanted to be with her. 
Audible sigh.
HE IS SO SWEET.
Additional Excerpts from their Breakup:
"You're putting a two week timeline on the rest of your life, and that's not fair." – Colton
Cassie: "Are you mad at me?"
Colton: "I'm not mad at you. I love you."
"I wasn't expecting you to know right now." – Colton
Cassie: Unclear BS about wanting him to find the love of his life.
Colton: "That breaks my heart."
Cassie: "That breaks mine." Ok, don't' say stuff just to say stuff.
Cassie: I just don't think I can get there.
Cassie's Good-Bye
Cassie did all the wrong things when you're breaking up with someone, especially with someone who has poured their heart out to you. She told him she hoped he found someone who loved him with all of their being (aka not her), which might be the most painful thing to hear from someone you love. And THEN she asked if he was mad at her. OF COURSE he's mad. You just SHATTERED his heart. Girl, please. Get to getting.
Colton's Fence Jump was completely ruined by this whole saga because my heart was literally ripped out as Colton's was being stomped on. After Cassie left, Colton went into the room only to return, thrust a camera aside and jump the Portugal fence. (Sidenote: Still awaiting the workout regimen that will provide these superhuman fence-jumping abilities.) Chris Harrison did a little jog after Colton. He also whistled for him. Colton did not respond to whistling. The crew tried to go after him but the gate was like an automatic so Chris Harrison had a mini struggle with it when it was slooowly automatically opening. The stuff of movie magic. They went chasing after him and got all the producers on the walkies. To be continued…
Hannah G. got nothing.
Tomorrow (Tuesday) and Next week:
Tomorrow is Women Tell All and Demi gets heated with a bunch of the ladies. Next week, the previews show Colton hugging Hannah G., and knocking on a door. Lots of tears had by all. Mark your calendar because next week is also a two-day festivity. Next week, The Bachelor is on Monday and Tuesday 8|7c. Restock that wine fridge/cellar/bottom-drawer-of-the-fridge-meant-for-veggies because sh*t's about to go down!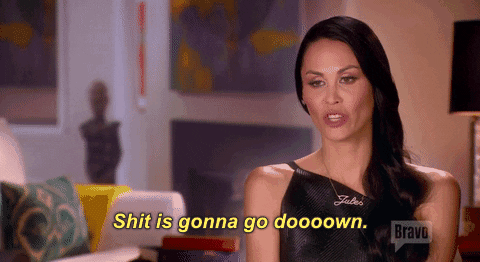 *I truly hope for Colton's happiness. I was literally facetiming my sister, holding my phone to the television screen against her will, catching her up (involuntary on her part) on the show and how I didn't necessarily love Cassie (she's fine, she's great, whatever), but that I loved how much she made Colton happy. So cheers to Colton finding happiness. 
Cassie, why you do us like that?