Tags
Hannah B, hannah beast, men tell all, the men tell all, the men tell all recap hannah, who got eliminated, who got kicked off, who got kicked off last night, who got kicked off the bachelorette, who got sent home last night, who is left on the bachelorette, who was eliminated, who was sent home, who went home
Locks of JPJ Love. Hannah B. in the Hot Seat. And Nothing but Love from the Bachelors. Moving that Rose Stand.
The Men Tell All brought out chicken nuggets, Hannah B. and the men. Luke P. took most of the show and then cut out early to "catch a flight." He basically just said his peace to control his messaging (which made no sense mind you) and skeedaddled. Good-bye forever. Hannah B. apologized to America for having him on the screen for so long and hoped that it would help others get out of toxic relationships. Seeing the good in the bad.
Fantasy Suite Dates Continued…
Before Men Tell All, we got a look at the rose ceremony between Tyler C., Jed, Pilot Peter and Luke P. Luke P. walked into the rose ceremony just like the other guys and stood next to them like a crazy person.
Hannah B. walked in and was like, "What are you doing here?" Luke P. kept asking for more of her time. NO. GET TO STEPPING. You have wasted enough of her precious time and ours. Get off of my television screen, Luke P. Luke P. tried his manipulation tactics again and said that it was about his heart and a relationship and Hannah laid into him with that it wasn't about his heart and that he's narcissistic. Luke P. kept asking for clarity and to pull her aside. And Hannah B. was like no leave, and here's some clarity, and she MOVED THE ROSE STAND. It was epic. Hilarious. Equivalent to, if not greater than, a fence jump. All hail, Hannah Beast, our queen.
Finally, the other guys clued in and approached Luke P. and Hannah. Luke P. got aggressive and told Jed to not touch him. And Tyler C. was like "Or what?" Tyler C. asked Hannah if she had already sent Luke P. home and she said Yes. Tyler C. was trying to help him go. Luke P. kept saying he needed clarity. Ummm, I think it's pretty obvious she does not want you here. Finally, Luke P. left and Chris Harrison told Hannah that he had had a ring in his pocket and was ready to propose. Umm, no. No no no no. Also, Luke said he would remove himself from the show if he found out Hannah B. slept with any of the other guys. He did find out. And he refused to leave. Stand by your word, dude.
On the Hot Seat
JPJ John Paul Jones got a ticket in the hot seat. He was greeted by his signature chicken nuggets and a member of the studio audience (guessing a plant) asked to cut a lock of his hair (a reference to earlier in the season when JPJ let Hannah B. cut a lock of his hair). It was weird. JPJ will grace us with his presence in Bachelor in Paradise. So don't cry for him just yet. JPJ told Hannah that there were no hard feelings and that he would have let himself go. Cute.
Mike was dressed to the nines with that million dollar watt smile. It looks like he's a true contender for next year's Bachelor. We shall find out Tuesday after Hannah Beast makes her decision.
Luke P. Regrets Nothing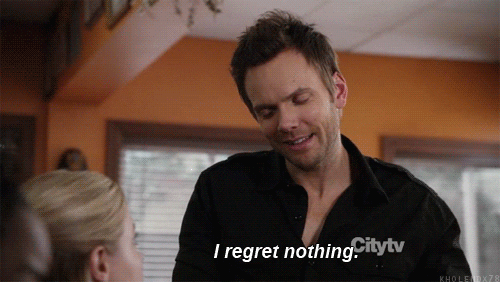 Luke P. had the balls or just the total lack of self-awareness to show up to Men Tell All. He was in the hot seat with Chris Harrison for what felt like an eternity with all of the extremely long pauses, where after Chris Harrison asked him a question, Luke would stare off into the distance and then tell Chris Harrison he didn't want to be misunderstood. Chris Harrison called out one of his farces, by showing Luke that Luke said two contradictory items – that he would opt out of the show if he found out Hannah had slept with someone and then he refused to leave. It makes no sense. Luke P. makes no sense. Chris Harrison also asked him if he had any regrets or things that he would have done differently on the show, and Luke P. straight up said "No." Sooo, there you go. That shit cray. Hannah B. said her faith was what connected her to Luke P. and in the end that's what was "weaponized" against her. Truth.
Devin came out heated, but keeping it together, because he had things to say. And it was this: that Luke P. only wanted to control a female in his relationships. Right on the money. Luke P. is a prime example of a toxic, abusive relationship. I usually like to keep things light and don't normally like to get too deep, but Luke P.'s actions are just infuriating and NOT an okay example of a relationship. Also, I don't think ABC needed all of that Luke P. drama to hold the show. I would have been happy seeing more of the camaraderie between the other guys on the show, because it looks like they had a great time. And I think Hannah B. would have had a greater, happier time finding love. But that's just me.
All the fun that could have been had this season with the cool crew Hannah B. had. Like look how cute they are.
Season 15 Bloopers with Hannah Beast
Tweets of the Night:
The moment when Grant Eckel liked my tweet.
This week is a two-night The Bachelorette finale with the show airing Monday and Tuesday night 8|7c. Next week, August 5th, Bachelor in Paradise begins.