Tags
alayah, pete the pilot, Peter the Pilot, peter weber, The Bachelor, victoria f and chase rice, victoria F rumors, who got kicked off, who got kicked off last night, who got kicked off the bachelor, who got kicked off the bachelor last night, who got sent home last night, who is left on the bachelor, who was eliminated, who was sent home, who went home
Victoria F. Dated Chase Rice. Soap Box Car Racing With No Mercy. Kelsey Gave Us What We Come For The Bachelor. The Victorias are Shady AF.
Chris Harrison walked in this week and told the ladies this journey would take them around the world full of art, culture and rock and roll! Starting with…Cleveland, Ohio. Womp. Womp.
The producers may have overspent their budget on a Chase Rice concert for Victoria F., so the ladies and Peter had to travel to Cleveland, Ohio for their trip around the world. Worth it. Natasha said there was a Midwest warmth to the city, and Mykenna called downtown Cleveland stunning. Neat.
Who got kicked off: So apparently we're adding roses instead of taking them away. Alayah came back and got a rose on the group date that she didn't even go on. She doesn't even go here!
One-on-One Date at Cedar Point: Victoria F. got the first one-on-one in Cleveland, Ohio. Her date card read: Today our love soars to new heights. They pulled up to an airport, surprise! Victoria F. freaked out because she thought they were going skydiving. Turns out Peter was flying her to Cedar Point. And Victoria F. became like the third lady Peter's gotten to fly around with and share his passion with (including Hannah B., Kelley the attorney and now Victoria F.). They landed at Cedar Point and had the entire amusement park to themselves to ride some rides, shoot some hoops and hole up at a diner for a snack.
Cutest Talk: At the diner, Peter tells Victoria F. that he wants an even number of children, because he doesn't want one to have to ride the rides at the amusement park alone when they go as a family. Cue melting hearts everywhere. Family man Pete, pulling through. So darn sweet. Victoria F. wants 4 kids so she fits the bill.
Cedar Point Concert with Chase Rice
Peter told producers that Victoria F. loves country. That is correct, Peter. How does she know every lyric to every song? Victoria F. used to date Chase Rice, the country singer. The producers were ready. They set up a concert with Chase Rice. As Peter and Victoria F. walked up, Victoria F. and Chase Rice made awkward eye contact and poor Peter was dancing along, all happy-go-lucky. What a cutie. The concert was a little anti-climatic, other than Peter telling producers maybe Chase could sing at his and Victoria's wedding. Awkward. After the initial awkward eye contact and Victoria F. and Peter dancing in front of Chase while he's singing, "Lonely If You Are," Chase was cool with it. Chase talked to Peter after the concert. Victoria F. talked to Chase separately. Chase told her to do what was best for her and there didn't seem to be any big deal there. At dinner, Peter's response when Victoria F. told him she had dated Chase Rice was the best. He reacted like all of America…Chase Rice? Like the singer Chase Rice? It was the best. Victoria F. ran off into the shadows again when conversations got hard and Peter gave her the rose on the one-on-one date.
Group Date with the Cleveland Browns Football Team for Victoria P., Kiarra, Kelley, Deandra, Madison, Lexi, Shiann, Tammy, Sydney, Hannah Anne, Savannah, Mykenna The date card read: Let's tackle love together. The ladies went to First Energy Stadium for a football date.
Best Quote: "I love contact sports. And I'm gonna tackle a lot of bitches." – Our beloved Tammy.
The ladies were split into teams: Killer Bees vs the Eliminators. The game would determine which team went back to the hotel and which team got more time with Peter. The ladies played their hearts out. Victoria P. sat out of the group football game. So that's fun. She sat on the sidelines and got extra time with Peter, while everyone else donned football gear and ran around all over the field, catching and blocking and throwing. Both teams got to go to the after party because they tied and there was no tie breaker. Madison was pissed because that meant less time with Peter as she would be splitting precious time with 12 other ladies. Time is precious, isn't that right Mykenna.
Natasha to the team: "Shiann, you scored every single one of our goals, so you should talk to him first, and I will block for your ass." Natasha's the best. Also, Shiann is a beast and should be recruited for the upcoming season. Sign that kid up!
Alayah Crashes the Party
Alayah crashed the group date. She walked in and immediately stole Peter away from Shiann. She said she came to clear her name. And that she was friends with these ladies, and he should make his decision irrespective of them. Eek, Peter fell for it.
Alayah told Peter Victoria P. and her were besties and went to Vegas together so Peter, you have been fooled by all of the ladies and not trusting your gut. Peter had a sitdown with Alayah and Victoria P. and Victoria P. looked like she got caught in a bold face lie. They did go to Vegas together.
Victoria P.'s Truth Ain't What We Think
As we'll remember Victoria P. told Peter she spent maybe a couple hours with Alayah and that maybe Alayah wasn't for him. Oof. Caught in a lie. Victoria P. said she told her truth. AKA a lie, Victoria P.! The trust chain has been broken! Who can we trust if we can't trust Victoria P.!
Peter gave Alayah the rose in front of all of the ladies on the group date. Peter told the ladies he should have done that last week, and all the ladies were like what in the Sam Hell is happening right now? She doesn't even go here!
The Tea: Alayah also spilled the tea from her time she was given her phone back, waiting in a hotel room to come back to talk to Peter. Alayah told all of the ladies that she had news from the outside world and that Victoria F. used to date Chase Rice! Victoria F. was like what in the Sam Hell is happening right now? What a dumpster fire.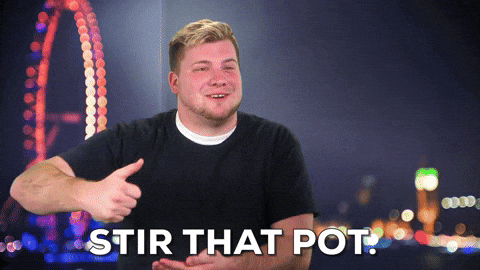 One on One: Kelsey got the second one-on-one date in Cleveland and brought us back to why we love The Bachelor. She gave Peter a quality response when he told her he brought Alayah back, saying if that's what he needs to do to be 100 percent sure of his choice at the end then kudos. And she had a day filled with light-hearted soap box racing, photo booth-ing, and arcade game-ing. And at dinner she opened up about her heartbreaking story that her dad left when she was younger and caused her to grow up fast. Peter gave her the rose on the date and it was magical. THAT is what we're here for.
Cocktail Party. What a Dumpster Fire.
Peter came into the rose ceremony and cocktail party oblivious to the ladies' feelings about him bringing Alayah back, and he walked in to a dumpster fire. Peter was like I feel great about where we're headed and all that Cleveland has brought to us in advancing our relationships. And all the ladies were like what in the Sam Hell? Deandra was the first to let him have it after he toasted to start the cocktail party. And the flood gates opened.
Peter: "I feel good about bringing Alayah back. I'm going to be true to myself. I feel good about what I'm doing. I have full confidence in every decision moving forward. I did enjoy my time here in Cleveland. And I did feel progress in a lot of the relationships and I'm holding on to that."
All of the ladies: Let's burn him to the ground!
Fun After The Fact Fact: Chase Rice is less than enthused that he was used as a pawn in The Bachelor producers' games. He claims he had no idea what the concert was for except to promote his music. PEOPLE has the scoop.
Next week on The Bachelor with Peter the Pilot, hopefully we get a rose ceremony or two since we have a two night special, Monday and Wednesday (Feb 3 and 5). Monday is a 3-hour event, 8pm-11pm, and Wednesday is a 2-hour night from 8pm-10pm.
Tweets of the Night: These Tweeters, keeping it funny.